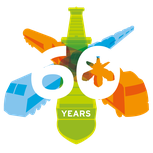 ---
30 MAN TGX trucks
nieuws.man-trucks.nl
April 25, 2022 - Van den Bosch from Erp in Brabant is a logistics service provider with offices in various countries. The company recently purchased thirty new MAN TGX trucks in two- and three-axle version, which are supplied by Den Engelsen Bedrijfswagens.
MAN is one of the brands that could already be found in the Van den Bosch fleet. "But with the new generation, MAN has taken another clear step. It has become a better truck in all respects than the versions we still have in the fleet," says Antony van Lierop of Van den Bosch. "The pusher axle is a built-in security to respect the axle load legislation at all times in intermodal transport. We also build the trucks ourselves, for efficient use in tank and bulk transport."
The trucks now purchased are of the TGX 18 and 24.470 type. The majority, 27 pieces, with two axles. In addition, Van den Bosch purchased three MAN's TGX 24.470 equipped with a 4.5-ton pusher axle. These trucks will be used in the United Kingdom. All tractors are equipped with the GM cab, which is equipped with an integrated parking air conditioner. "The vehicles are equipped with many additional safety systems and full LED lighting. The extra equipment in combination with the more powerful engine only gives a limited extra weight, which was one of the decisive reasons why we chose MAN," says Van Lierop.
Large fleet
The fleet with which Van den Bosch is active in Europe consists of about 250 trucks. "MAN plays an important role in the vehicle fleet. The brand meets our requirements, which are significantly higher in this sector than in other disciplines of road transport. As a result, the Van den Bosch organization is much more than a carrier of liquid or bulk goods for customers. Application of data and zooming in on customer supply chains have led to a much more accurate and effective service. More and more customers are seeing this and for that reason our company is still growing."
Climate neutral in 2025
Van den Bosch aims to have the three Dutch branches operate completely climate neutral by 2025. "We are investigating to what extent we can implement electric or hydrogen propulsion. MAN will certainly play a role in this. Processes that must guarantee safety and quality in our work fit in seamlessly with this."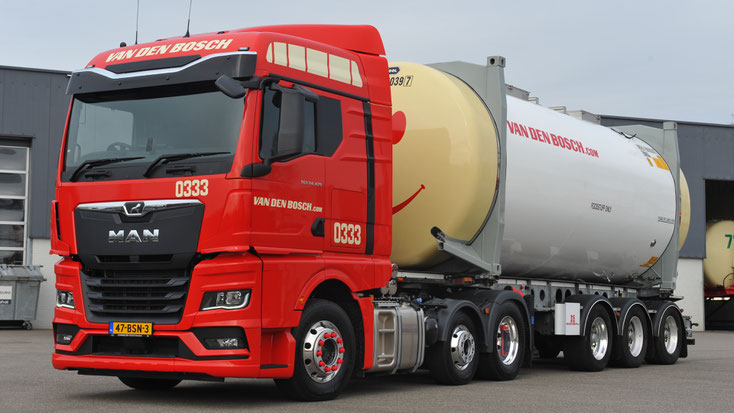 ---
Ground-operated manhole cover ready for use
March 28, 2022 - Safety in the supply chain has the highest priority for Van den Bosch. Towards the end of 2020, we introduced the first ground-operated manhole covers to prevent unnecessary work at height and increase product safety. The system has been tested intensively in the past period and is ready for use.
"As logistics service provider we are continuously searching for new ways to work smarter and safer", says Barry Gruijters, Operations Director division Dry Bulk at Van den Bosch. "In cooperation with our development partner Etec, we searched for a safer alternative to the manhole cover on top of the silo trailers and containers. The result is this ground-operated manhole cover, with which we equipped our first silo trailers in 2020. This manhole cover is unique in the bulk sector and is developed exclusively for Van den Bosch."
Prevention of working at height
The manhole cover is completely ground-level controlled and pneumatically operated (by air pressure), cutting out unnecessary working at heights. Furthermore, these covers are quicker and easier to open and close than the regular version. "With this new generation of manhole covers, we are taking the next step in the field of safe working and increasing product safety", explains Gruijters. 
Ready to use
The manhole covers have been intensively tested and further developed over the past period. Gruijters: "The system works well, and the safety benefits are clearly visible in practice. The work can not only be performed more safely, but also faster. Leaks are prevented because the cover can only be closed in one way. Moreover, the cover cannot be opened without access to the controls. We combine innovation with safety, thereby setting a new standard in the supply chain."
This is how the ground-operated manhole cover works:
---
MAN TGX 24.470
February 5, 2022 - The first brand new MAN TGX truck for the UK.
This first of 3 new ultra light MAN TGX 24.470 trucks for Van den Bosch Transport Ltd is ready to go to the UK.
They are equipped with an infotainment screen, refrigerator and parking cooler. With full tanks the weight is just above 8200kg.
The trucks will be deployed at the Liquid division.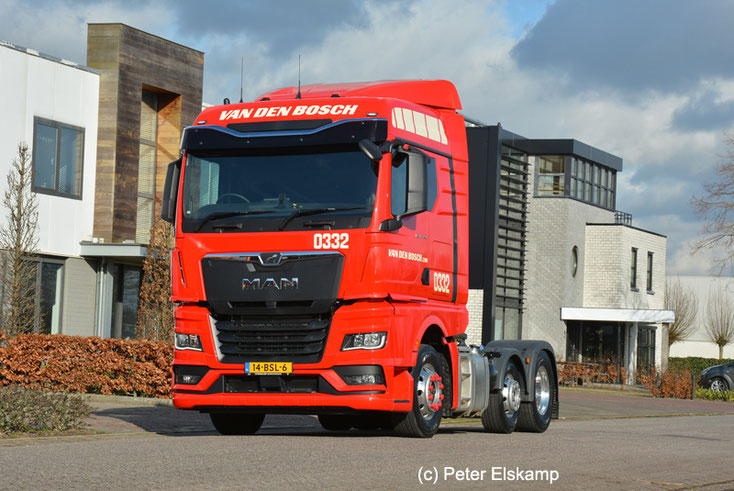 ---
Renault Low Deck
October 1, 2021 - The first three brand new Renault Low Deck trucks were handed over at the headoffice in Erp today.
The new vehicles are equipped with all safety and comfort systems, such as an emergency brake assistant and parking air conditioner. The trucks are versatile because they are equipped with hydraulics and an RTI Dry unloading compressor for unloading our 40ft silo containers. The trucks are also used for the lock chassis with high cube containers.
---
500 20FT tank containers
September 21, 2021 - Van den Bosch is expanding its deep sea activities with five hundred new 20ft tank containers and a cleaning station in Ivory Coast. In doing so, the logistics service provider is meeting the growing demand for deep sea transport using ISO tanks for the food industry.
Van den Bosch is one of the biggest bulk transporters of liquid foodstuffs in the world. A major part of the activities concerns the shipment of liquid foodstuffs in ISO tank containers for the African market, such as cacao, shea butter, olive oil, sunflower oil, ethanol and wine. "With the purchase of five hundred extra containers, we are paving the way for further growth," says Bart van de Vorst, Managing Director of Van den Bosch in Dubai from where the deep sea activities are coordinated.
---
Terberg terminal trucks
August 10, 2021 - Van den Bosch has commissioned three new terminal trucks. Two of the Terberg trucks will be used at the terminal in Bergen op Zoom for the transport of dry bulk. The third will be transporting liquid chemicals from Waalwijk.
The trucks will also carry out local shunting work for Van den Bosch clients. The new trucks are fully equipped with comfort and safety systems and have a clean and durable Euro 6 engine. They will replace the older types with Euro 3 or Euro 4 engines. This means cleaner and more sustainable engines which are better for the environment.
---
200 40 FT pressurised containers

February 18, 2020 - Van den Bosch has bought 200 new 40FT pressurised containers for the transport of dry bulk products for the food industry. The new silo containers are equipped with a Protection Outlet Box: a leading technical innovation which is unique in intermodal bulk transport.
"With the purchase of these new containers, Van den Bosch takes the next step in the area of food safety and quality", states Barry Gruijters, Operations Director Dry Bulk at Van den Bosch. "The technical specifications have been defined in close cooperation with clients and suppliers. A number of these specifications are unique within the intermodal transport of food products."
(Food) safety and quality
The importance of (food) safety and quality are captured in every detail of the new containers. The combination of materials and the design is what makes these containers so unique. In every aspect special attention was given in terms of the usage of certain materials, cleanability and the safety of the product during transport or (interim) storage. "Our customers are looking for a high level of (food) quality and safety. That is why we at Van den Bosch combine the use of these new high quality containers with full insight into the transport and the history of the container via our recently launched customer portal FreightInsight", Gruijters explains.
Protection Oullet Box
The new 40FT pressurised containers are, including other elements, equipped with a Protection Outlet Box, which is a leading technical innovation. This Protection Outlet Box offers full protection of the butterfly valve and outlet (the blind cap included). Both are in direct contact with the product. The box not only protects against unpleasant filth, but also prevents contamination of the box, improves sealing and ensures that the load unit is less sensitive for sabotage. Gruijters is excited: "Our customers are very enthusiastic about these new containers. Thanks to the unique combination of specifications, we are taking (food) safety and quality in intermodal bulk logistics to a higher level."
The new 40FT silo containers are produced and delivered by LAG, located in Bree, Belgium.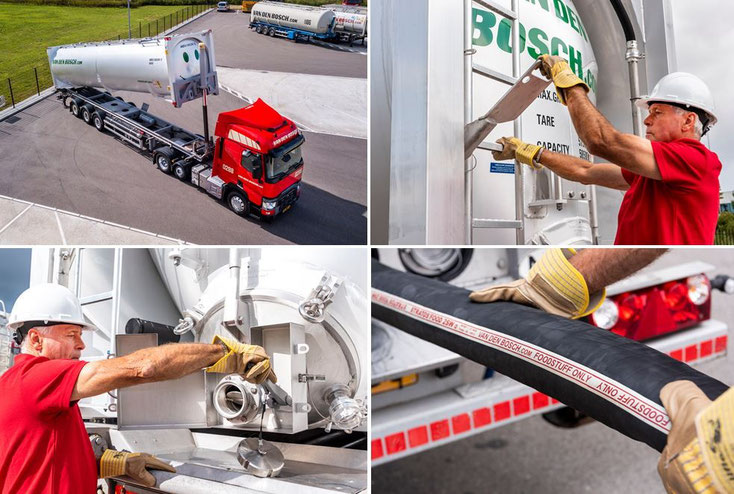 ---
42 new Renault Trucks for Van den Bosch
January 9th 2018 - Van den Bosch Transporten has bought 42 new Renault trucks. The Renault Truck T has been chosen. "A full-fledged and lightweight truck with power and convenience going hand in hand", says CEO Rico Daandels.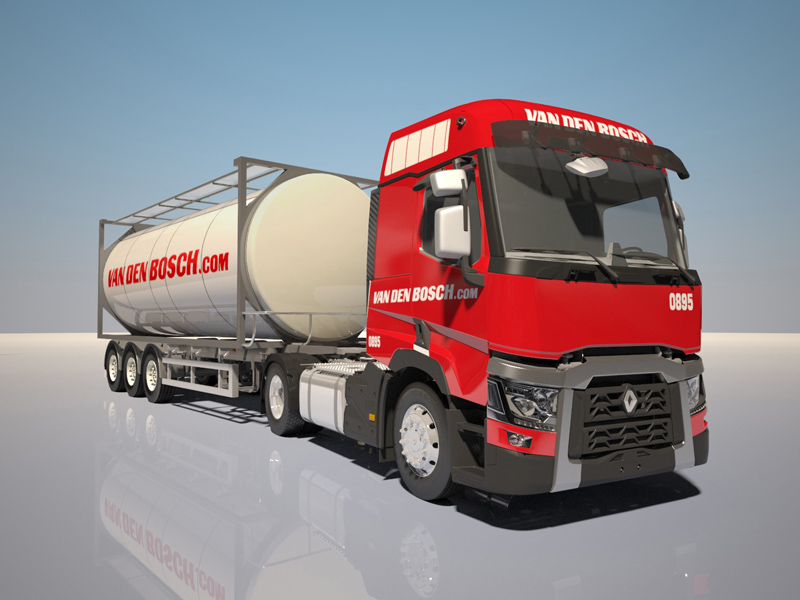 Impression of the new Renault trucks
Power and convenience
CEO Rico Daandels is pleased to welcome Renault in the fleet. "We have tested the Renault Truck T extensively and it left a very positive impression. Its low weight combined with the high convenience for the driver, the additional power and the favourable cost price per kilometre convinced us to go for this modern Renault truck." Ed van Rijswijk, Manager Sales Operations at Renault Trucks Netherlands adds: "We are very proud that Van den Bosch opted for us. Not only confidence in Renault, but also in the BAS Truck Center dealer organization tipped the scales for the Renault trucks. We are looking forward to a pleasant cooperation."
Extra loading capacity
The new trucks will be deployed for the transport of liquid and dry bulk in Europe. "We are reinforcing our lightweight strategy in the European bulk transport market with this investment", Rico Daandels explains. "The use of lightweight equipment, such as trucks, containers and chassis, results in a higher payload, enabling the transport of more product volume." Last year, the fleet was extended with 40ft silo containers, 40ft silo tipper chassis and lightweight 20ft liquid chassis. Investments were also made in connectivity, by equipping all trucks with a Trimble board computer and by providing a Trimble application to subcontractors.
Delivery in February 2018
The new trucks will be delivered by Renault Trucks dealer BAS Truck Center in Veghel. The first trucks are expected to arrive late February 2018.